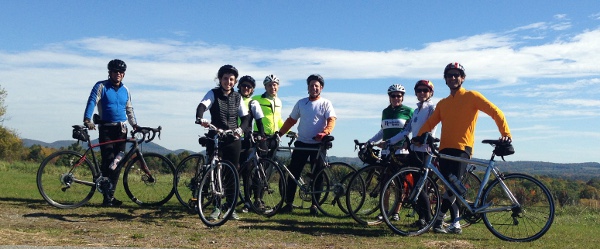 Bike PHifty is an annual 50-mile bike ride held on Columbus Day weekend. It is intentionally not a race (no timers, no medals — all participants are winners doing whatever distance they can).
Bike PHifty is designed to maximize participation by pulmonary hypertension patients, caregivers, family and friends by keeping the average pace at 10 miles per hour for five hours (if riding the full 50 miles – 50 miles is a challenging distance for less serious riders, and half the distance of century rides that challenge more serious riders).
Bike PHifty also encourages riders to join the pack for segments of the ride if shorter distances are desired.
Inspired by Team PHenomenal Hope's (www.teamphenomenalhope.org) participation in the Race Across America, Sue, Dani and Camm Epstein organized the first Bike PHifty ride in 2013. Five riders rode 50 miles in 2013. Participation in the annual ride has increased each year (17 in 2014, 24 in 2015, and 66 in 2016).
To date, Bike PHifty has raised approximately $22,500 through our past events and donated these funds to non-profit organizations focused on pulmonary hypertension. Bike PHifty has transferred $7,000 of funds raised last year to the United States Pulmonary Hypertension Scientific Registry (USPHSR). The USPHSR will help advance the understanding of pulmonary hypertension (PH) and improve care of patients who suffer from this life-threatening condition. It is the first registry to combine clinical and molecular characteristics of patients affected by pulmonary hypertension (PH), and is actively enrolling controls to help identify the mutations responsible for the condition. By investigating the relationships between key mutations and disease expression; including exploring relationships between gene mutations and exposure to estrogens, researchers will be able to developing screening tools designed to identify high-risk patients and, ultimately, targeted therapies. We're thrilled to have this partnership and support the efforts of USPHSR!
Bike PHifty's mission is to increase awareness of and funding for pulmonary hypertension (PH).
Bike PHifty, Inc. is a charitable not-for-profit organization incorporated in the State of New York. Bike PHifty, Inc. is designated by the IRS as a tax-exempt 501(c)3. Bike PHifty, Inc. holds the trademark for Bike PHifty.